Laghey PS Parent Support Group Sponsored Walk
This Saturday October 23rd sees the return of the sponsored walk organised by the Parent Support Group. You are all invited to join us at Dungannon Park at 11am.
Money raised from the event will to cover the cost of fruit provided as part of the school's healthy break initiative. All your support is greatly appreciated.
We look forward to seeing you all out on Saturday morning, so get you trainers and warm clothing ready!
Maths Week 2021
This week in Laghey we have all been engaging in Maths Week. We have been looking at shapes, angles, experimenting with numbers, testing theories and performing investigations. We've all had a great time learning both in and outside the classroom.
Sam Maguire Visits Laghey
Today in Laghey we had a few special guests and some very excited children and staff. Many thanks to Tyrone players Darren McCurry and Conn Kilpatrick, as well as Cuthbert Donnelly, for bringing Sam Maguire and the Anglo-Celt cup into the school today.
Flu Vaccination
A reminder that the flu vaccination, for those who requested their child to have it, will be administered in school on Tuesday 28th September.
After-schools Term 1
After-schools are returning to Laghey on Monday 20th September. As well as having fantastic new activities to try out, we have some old favourites returning.
After-schools will run from a Monday to Thursday. P1-3 after-schools will be from 2-3pm with P4-7 clubs running from 3-4pm.
Healthy Kidz will be hosting our Tuesday gymnastics and Wednesday sports club. If you use the link below you can pay upfront for the first 5 weeks of those clubs.
https://healthy-kidz.com/product/healthy-kidz-afterschools-at-laghey-ps/
There will be no after-schools the week beginning Monday 25th October. It will return Monday 1st November.
We're looking forward to seeing you all there.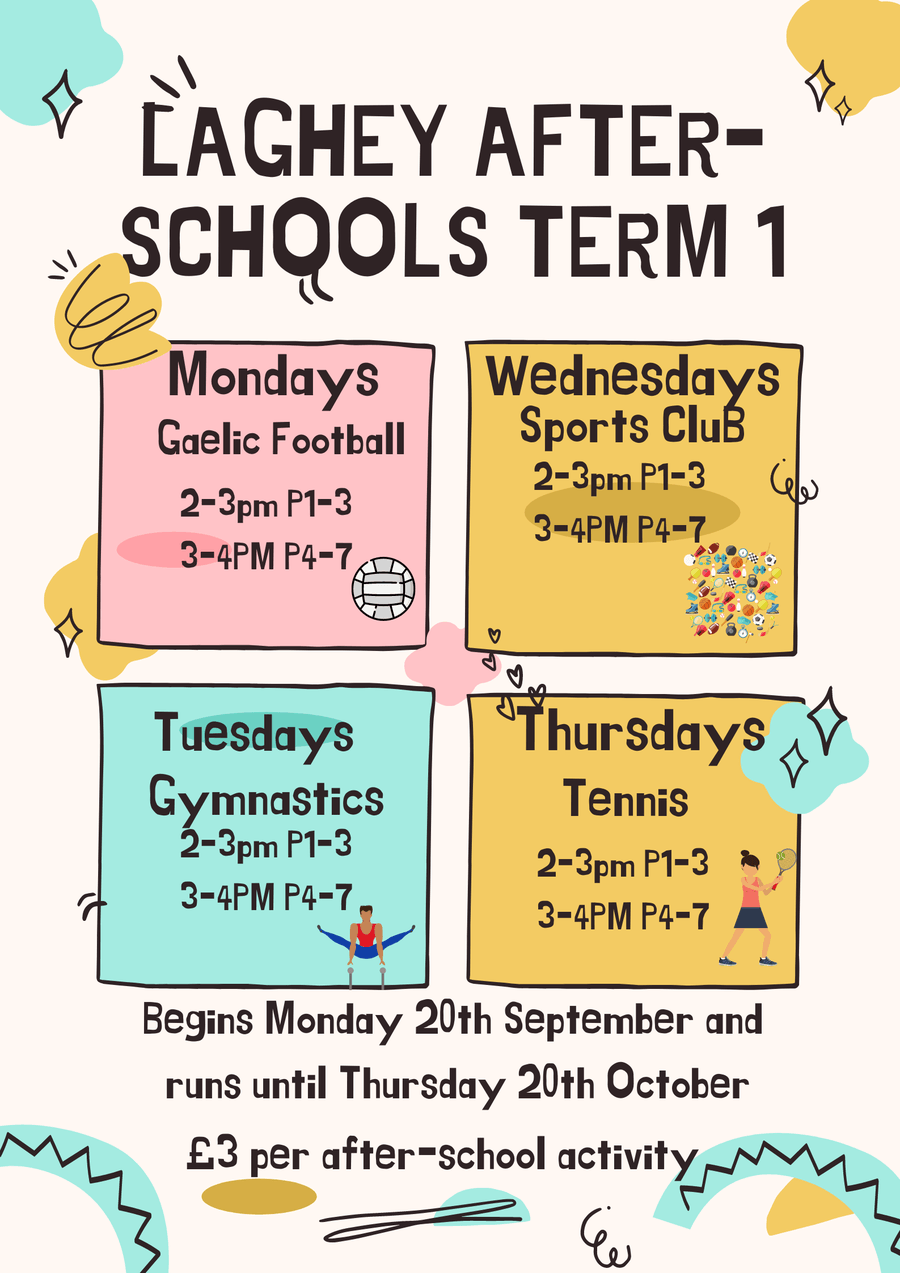 Summer Camp 2021 Has Begun!
This first week we have Healthy Kidz in working on sports skills, games, self-esteem but most of all having fun!